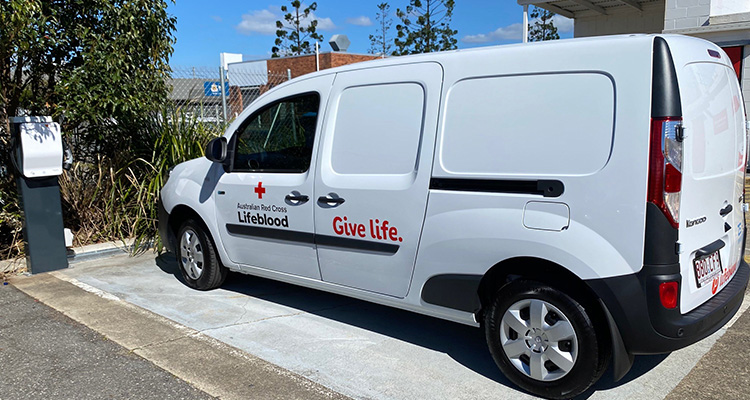 Interleasing Take Charge In Red Cross Lifeblood's First Electric Vehicle Foray
At Interleasing we pride ourselves on our ability to deliver better outcomes to our clients and help them reach their business objectives.
In addition to our expertise in the fleet management and asset finance space, we also specialise in commercial vehicle solutions – delivering vehicles and equipment that are cost-effective as well as fit-for-purpose and productive.
One such solution was provided to a key client, Australian Red Cross Lifeblood (also known simply as Lifeblood), a national blood-donor service responsible for the collection and distribution of blood and related products.
Lifeblood is gradually moving to a greener fleet – we have previously assisted them in procuring several hybrid vehicles – as they look to reduce their carbon footprint.
This intention aligns with the recent electric vehicle trends in Australia – sales have increased by more than 200% in the past two years – and the expected continued rise across the country in the next five years.
"There's been a raft of announcements, particularly in 2021 from a number of state governments, to offer incentives to increase the purchase and use of EVs," says Brendan Newstead, Senior Relationship Manager at Interleasing.
So with the help of Interleasing, Lifeblood have trialled their first true electric vehicle at their donor centre in Strathpine, Queensland – a Renault Kangoo 22KWH MAXI Z.E. Auto.
After a period of vehicle research, we determined that the Kangoo is the only fit-for-purpose electric small van in the market. Discussions with Lifeblood followed and guidance given regarding lease types, finance terms and inclusions that best met their requirements.
But in addition to sourcing and delivering an electric vehicle that was not only sustainable but also cost-effective, there was also the matter of how it would be charged.
"The people driving Lifeblood's vehicles are donor centre staff who have no experience in electric vehicles or in transportation and Lifeblood don't want to be directing staff to a public charging station and them having to wait for that charger to be available," Brendan says.
Following more research and meetings with potential suppliers, Interleasing sourced a vehicle-appropriate charging unit through Melbourne outfit JET Charge and had it installed at the donor centre. This gave staff piece of mind that the vehicle could be charged safely and securely at the end of each day, so that the next morning they could go about their business with a fully-charged van.
Interleasing was also able to recommend the ideal location for the charging unit, placing it between two carparks so that if the van wasn't charging, any visiting donors with EVs would have the opportunity to charge their EVs whilst giving blood.
"It's all part of our ability to deliver a complete, big-picture solution," says Brendan. "It's all well and good to sell an EV to a client but by actually supplying and funding charging units, we're then putting a new infrastructure in place; and we're involved from initial conversation through to delivery."
National Logistics Coordinator at Lifeblood, Peter Doody, is excited about the possibilities. "The results of this first foray into the EV space will help guide decision-making in the future, based on the vehicle location and its usage."