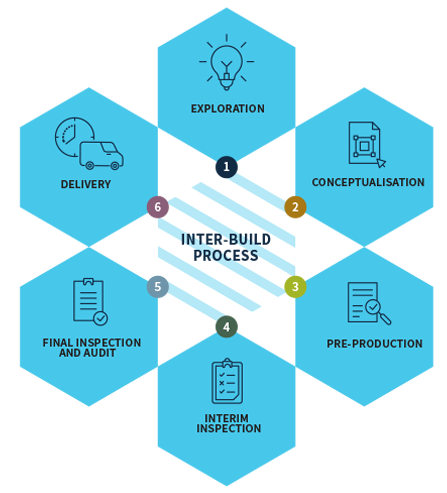 THE INTERLEASING DIFFERENCE
Our Inter-Build process is a six-stage structure that guides how we work with you to build your assets. It plays an important role in helping us achieve our goal of delivering your vehicles or equipment on time, to specification and without the need for further modifications. A summary of our process is below, with more information available by speaking with one of our Commercial Vehicle Specialists.
Exploration
Confirming your needs and unique specifications.
Conceptualisation
Bringing the design to life through AutoCAD drawings.
Pre-Production
Reviewing the specifications prior to the build.
Interim Inspection
Conducting inspections during the build process.
Final Inspection and Audit
Carrying out final check of your vehicle or equipment. 
Delivery
Getting your vehicle or equipment to you on time. 
GUIDING PRINCIPLES
We incorporate four guiding principles to ensure your vehicle and equipment are built to specification and delivered on-time.
icon Fit for Purpose Design
icon Pre-Delivery Testing
icon Our structured Inter-Build process