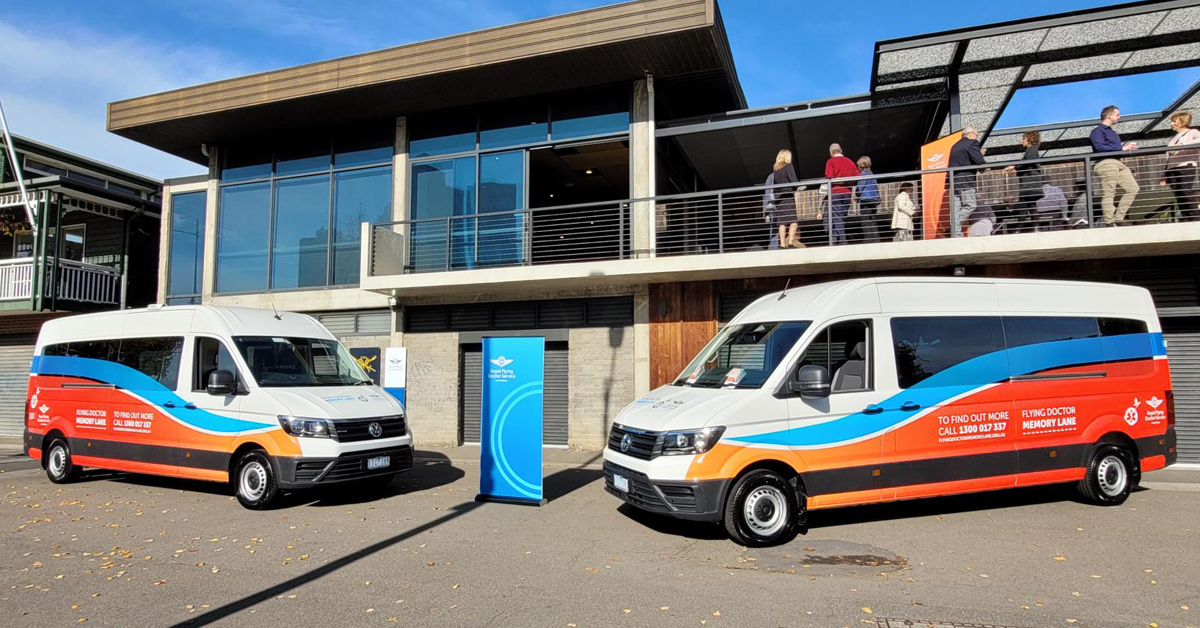 Flying Doctor Memory Lane
As people near the end of their lives in palliative care, every moment they have remaining is precious, especially for the friends and family around them. Transporting patients in palliative care is difficult and this can mean they are unable to continue to visit home or other places of personal significance.
The logistical complexity involved with transporting patients in end-of-life care is now being re-imagined with the launch of a fantastic new initiative from the Royal Flying Doctor Service (RFDS) called Flying Doctor Memory Lane.
Flying Doctor Memory Lane is a service that transports patients to a place of personal significance when they are nearing the end of their life journey. This may be a trip to their favourite beach, back to their family home, a visit to a sporting event or simply a lift to the park to spend valuable time with family and friends.
European origins
The inspiration that started the Flying Doctor Memory Lane journey came late one night in New York City, when RFDS Victoria Chief Executive, Scott Chapman was channel surfing in his hotel room and came across a documentary on 'Stichting Ambulance Wens' and the Dutch paramedic Kees Velboer. While driving his ambulance Kees realised how significant even small outings and journeys can be for people in palliative care, not only for themselves, but for their families and loved ones too.
Scott realised that this was a service he desperately wanted to bring home to Australia, and he asked RFDS Operations Support Lead, Christian De Hass to manage the initiative.
Close to the heart
For Christian, this new project was close to his heart. "In 2017, my 7yr old daughter was diagnosed with incurable brain cancer. I remember during her battle thinking that there simply aren't enough resources available to individuals and families that struggle through this process. Unfortunately, when people are touched by palliative care it isn't always a positive experience and it is so important to guide people when they feel vulnerable and give them the support they need when they need it most.
I know that RFDS has the expertise, the understanding, and the dedication to a deliver a service that is so important to people in end-of-life care. During my daughters battle I was lucky to have the RFDS support me in every way possible and that is part of the drive for me personally to give back and help push this service into the future and beyond."
Interleasing joins the journey 
Once Christian was ready to get started he knew who to turn to for help. "RFDS have a close-knit relationship with Nathan Ritchie, Grace Veater & Terry Koutsouras. When I was asked to join the working group for Memory Lane I knew that I would need all three of these individuals to help in the process," says Christian.
In March 2021 Interleasing Relationship Manager Nathan Ritchie, Manager Commercial Vehicles Terry Koutsouras and Relationship Officer Grace Veater received the call from Christian to see if they could assist in sourcing the required vehicles to enable the launch of the Flying Doctor Memory Lane project.
"Christian led the initiative and asked us to source and purchase two VW Crafter vehicles and deliver them within an agreed time frame. The challenge was trying to get the two vehicles released from port to give Amtek enough time start building, our strong relationship with VW helped make this happen," says Terry.
The build
"The build process was a whirlwind effort. We literally called on every industry connection we had to pool together enough resources. Firstly, to actually complete the project in record time and secondly, to build a vehicle that was unique, non-clinical and purpose built for comfort with the many Memory Lane journeys ahead in mind," says Christian.
Interleasing worked closely with RFDS to not only source the vehicles but also bring together the suppliers needed to get the job done. Amtek and Label Concepts quickly came onboard to help Christian with the design of the innovative transport vehicles. World leaders in medical tech Stryker were also introduced to help with the creation of the specially designed beds that needed to be custom built.
"Christian has designed these vans to ensure they don't resemble that of an ambulance, but they still have all the necessary equipment of one. This allows the patient to feel comfortable on their trip, with extra seating for family members, a fridge, sink, and a comfortable bed," explains Terry.
"Terry managed the contract process in the back-end so we could focus on the fine details of the build. This to me has been priceless in what was a very tight time frame, but we got the vehicles over the line and met the deadline," says Christian.
It's an achievement everyone is proud of, "With just eight weeks lead-in time from start to finish the end result was a true culmination of hard work, determination and great communication. Interleasing were and continue to be a huge part of not only Memory Lane, but the RFDS as a whole."
A bright future
"Interleasing is so proud to be a part of the Flying Doctor Memory Lane initiative and to have played a role in creating both a comfortable patient journey and overall experience," says Terry, "we can't wait to see what the future holds for this fantastic new service."
Christian says the post launch plan is now to impact as many lives as they can and continue to spread the word about Flying Doctor Memory Lane. "In the short term we need the help of the public and the media to spread the good word and understanding of the significance of this project. The first two builds are to be located in metropolitan Melbourne and regional Bendigo and the hope is that the demand for this wonderful free service will explode into many more purpose-built vehicles being deployed across Victoria and potentially Nationwide in the future."  
You can read more about Flying Doctor Memory Lane on the RFDS website.