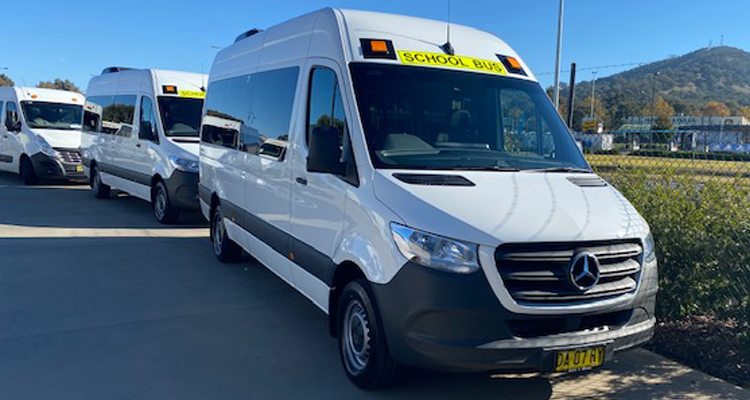 Interleasing delivers vehicle solution to disabled transport provider
At Interleasing, we're all about helping clients get more from their resources – whether that's through the delivery of fleet management services, asset finance or commercial vehicle solutions. 
Key to our experience and expertise – we have more than 30 years' experience in the fleet management game – is our large network of industry contacts.
"We pride ourselves on building good relationships within the manufacturer supply chain and dealer network – and these relationships go a long way," says Terry Koutsouras, Manager Commercial Vehicles at Interleasing. 
This was no more evident than in the service provided to Kirinari Community Services, who became a client in early 2021. Kirinari offers disabled transport services in the Albury, Greater Hume and Federation shires. They are a member of the Community Transport Organisation – the peak body for Community Transport services who represent its members and advocates to government and key decision makers in NSW.
Interleasing were engaged to deliver nine new vehicles to help the organisation replenish their ageing fleet. Mercedes Sprinters were chosen as best suiting Kirinari's purposes, due to the flexibility of the wheelchair fitment, rear bus design and the new and improved bus features. 
However, stock availability in the COVID-impacted world was an issue. "In light of the current COVID situation stock availability has been a challenge, in most cases we could be waiting up to six to eight months or even longer for vehicles," Terry says.
Terry, with 30 years' experience dealing with Australian manufacturers, contacted an associate at Mercedes Benz, who found nine Sprinters for him. From there Interleasing worked with wheelchair provider Norden to fit the vehicles to specification. Terry inspected the vehicles to ensure they were in line with Kirinari's requirements – and then travelled to Albury for the delivery of the first four vehicles and provided vehicle demonstrations.
Diane Lynch, CEO of Kirinari Community Services, says the delivery marks the beginning of a significant partnership with Interleasing that will see Kirinari upgrade the bulk of its bus fleet and further aid frail aged and transport disadvantaged residents in the border region.
"It's wonderful that we are partnering with Interleasing to upgrade our fleet, ensuring the highest safety, accessibility and comfort for our customers," she says.  
"In addition to Kirinari Community Transport, customers from The Buzz, Kirinari's day program for people with a disability, will be the first to benefit from the improved accessibility and safety features on show in the new vehicles."
To discover more about how Interleasing supports disability service providers, download our guide to safe and cost effective transport strategies.