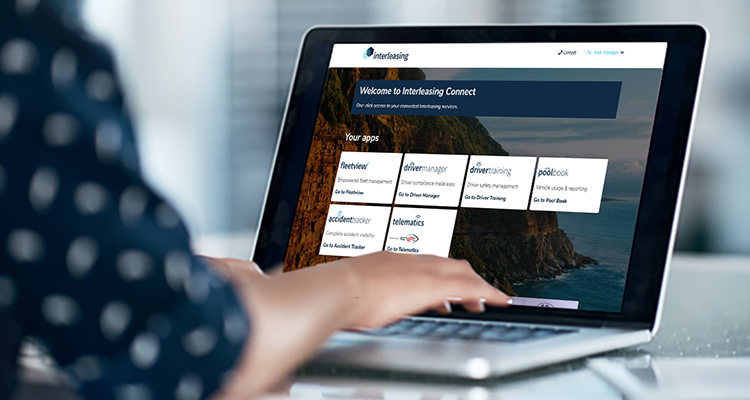 Optimise your fleet with our new digital platforms
As an expert provider of tailored fleet and commercial asset solutions, Interleasing are always looking at new ways to help our clients get the most from their resources. 
Therefore we're proud to announce the addition of four new platforms to our suite of digital capabilities: Driver Manager, Driver Training, Pool Book and Accident Tracker. 
The platforms simplify information sharing, vehicle booking and fleet reporting while enhancing driver education, compliance and safety – empowering you to optimise your fleet and make informed decisions. Here's an overview of each.
Driver Manager
Driver Manager is a simple and efficient platform for collecting driver and vehicle details, sharing policies and procedures, tracking driver compliance and assessing risk – ultimately helping to ensure a compliant and safe workforce. 
Drivers access a user-friendly dashboard, making compliance transparent and straightforward. Fleet managers, meanwhile, have wide-ranging visibility on driver compliance – from expired licences and registration reminders to demerit-point breaches and outstanding policy documents.  
Driver Training
With a range of e-learning modules, covering everything from hazard perception to driver distraction, Driver Training has been developed to ensure maximum impact in a convenient and accessible way with modules taking an average of 10 minutes to complete. With trackable results, it's a comprehensive digital solution for continuous driver education. 
Pool Book
Pool Book is a calendar-based platform that makes shared vehicle booking easy and fast. Drivers are given full visibility into vehicle availability, helping to increase fleet utilisation. With customisable settings, Pool Book guides drivers through the booking process, seamlessly capturing valuable usage data for easily generated reports. 
Accident Tracker
Accident Tracker helps make managing the fallout from accidents easier by delivering fast and full visibility into fleet accident data – from the average repair cost to average days off road – enabling managers to quickly gauge the financial and operational impacts of accidents.
Additionally, our telematics platform – Telematics powered by EZY2C – is a comprehensive tracking solution that provides all the real-time data you need to optimise your fleet, improve driver safety and potentially reduce costs.
Adam Morrison, Group Executive – Asset Management, says: "Ultimately this new technology is about empowering the fleet manager so they understand the most important items they need to address in their fleet today, while keeping drivers safe. This in turn allows Interleasing to work more efficiently with our clients."
All of our new digital capabilities are accessible via Interleasing Connect, our online portal that delivers one-click access to your connected Interleasing services.