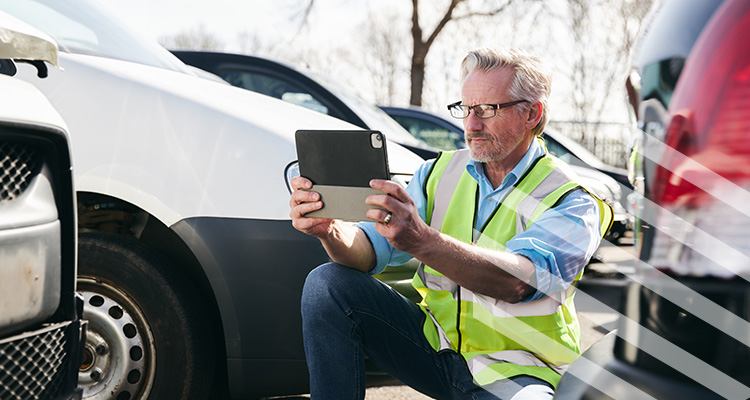 We know it can be challenging to keep track of the condition of your fleet throughout the lease lifecycle. There's technology to tell you where a vehicle is, when it is due for a service and who is driving it – but with the majority of vehicle inspections being carried out at the end of a lease and on paper, there's little accuracy or accountability when it comes to vehicle damage.
That's why we're excited to be launching Fleet Inspect – a simple solution that enables drivers to capture a vehicles condition throughout the lease period, giving fleet managers the visibility they need in one place – with no surprises. Fleet Inspect's strength lies in its simplicity. Drivers take photos that are automatically date and time stamped and safely stored, all available to be reviewed at any time.
"Fleet managers may not have the technology to routinely inspect the vehicles in their fleet during the life of the lease. Fleet Inspect gives an extra layer of centralised visibility that hasn't been available previously, which will enable more proactive management of vehicles."

Anthony Perri, General Manager – Sales & Client Relations, Interleasing
Empowering drivers, increasing visibility
For more effective fleet management, Fleet Inspect enables drivers to be proactive and 'self-report' easily without a lengthy process. It also supports fleet managers to take the next necessary steps – like insurance claims or repairs – quickly. This reduces potential financial impact at the end of the lease and also helps manage the reputational risk of having damaged or unsafe vehicles on the road.
Simple to use and onboard
Drivers log in to a dedicated app on their phone and complete the simple step-by-step inspections at a customisable frequency – so it's a great auditing tool. Drivers can also report things that are missing from their vehicles that need to be replaced for safety reasons, like a first aid kit. And with individual profiles for each driver, it also enables fleet managers to determine where further education and training might be required for drivers involved in repeated incidents.
Fleet Inspect is your single source of truth for vehicle condition reporting – that gives you even more visibility over your fleet, with no more surprises at the end of the lease.
If you want to learn more, contact us for a demonstration today.